MALÁ INVENTURA … Eli a kol./Mirka Eliášová: Škatulení
Sobota 26.2. / 16:00 / Pohybové divadlo / KD Mlejn
Představení se koná v rámci festivalu Malá inventura 2022
Škatulení zve do světa fantazie, v němž se i zdánlivě obyčejné věci mění v něco nevšedního. Stačí otevřít oči, zapnout představivost, rozhýbat se a hrát si.
Co všechno může představovat krabice? A co teprve když jich je víc, jsou různě velké nebo v nich někdo bydlí? Jak je můžeme zabydlet my? Přemístit, poslat, přeskočit, posunout, přestavět nebo oběhnout? Jak prožíváme překvapení? Jsme zvědaví? Umíme odhadnout co nebo kdo je uvnitř krabice? Jak zní? Jak je těžká? Můžeme jí něco svěřit? Vím odkud krabice přicestovala a jak dlouhou cestu urazila? A kam patří?
Představení v sobě propojuje tanec, živou hudbu, performanci, prvky improvizace i technologie. Seznamuje děti s uvažováním o prostoru a architektuře, o fyzikálních zákonech, přepravě a cestování krabic, ale i důležitosti přání a snů.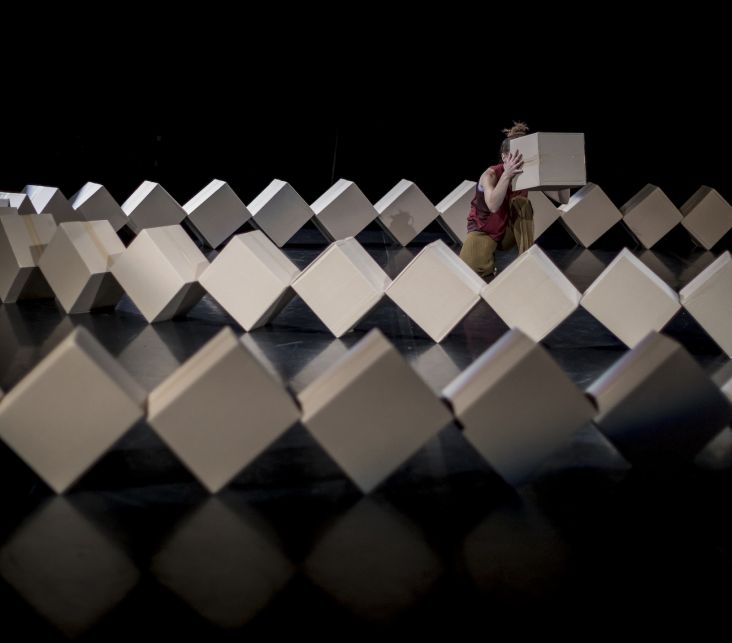 Choreografie, koncept/Choreography and Concept: Mirka Eliášová
Tanec/Dance: Jazmína Piktorová, Veronika Šimková, Romana Packová
Hudebník/Musician: Václav Kalivoda, Tomáš Reindl
Hudba, zvuková režie/ Music, Sound Direction: Jiří Jakl
Světelný design a video/Light Design and Video: Pavel Havrda
Kostýmy/Costumes: Renáta Weidlichová
Grafika/Graphics: Zuzana Hořavová
Produkce/Production: Romana Packová, HTSpE
Foto/Photo: Vojtěch Brtnický
Podpořili: MKČR, MHMP, SFK, HTSpE, Tanec Praha z. ú. / PONEC – divadlo pro tanec
Délka: 50 minut
Pro: děti do 4 do 12 let, jazykově bezbariérové / no language barrier
---
Boxing Up invites you to a world of fantasy, in which even seemingly ordinary things turn into something unusual. Just open your eyes, turn on your imagination, get moving and play. What are all the things that boxes can represent? And what if there are more of them, if they are of different sizes or if someone lives in them? How can we make them our own? Rearrange them, send them, jump over them, move them, rebuild them or go around them? How do we experience surprises? Are we curious? Who or what is in it? How does it sound? How heavy is it? Can we entrust it with something? Do I know where the box came from and how far did it travel? And where does it belong?