Cirkus TeTy: Voyerky
Čtvrtek 3.6. / 16:00 / Akrobacie / KD Mlejn
Koupla bych se v oceánu. Livigno, nebude… Pojedeme na výlet, spolu, do Betléma. Musíme mít názor na tělesnou teplotu. Studí do zadku. Ty závěsy měly být v obýváku. Vzpomínáme na dědečka. Vždyť si to miminko ještě vůbec neužila. Může za to Káča.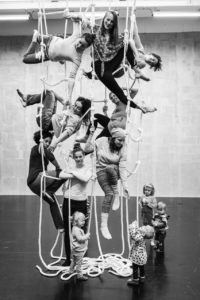 3 pohybové laboratoře. 3 různé choreografky a 1 režisérka. 15 performerů.
Experimentální inscenace Voyerky se zaměřuje na kontrast idealizujícího očekávání a reality. Pohybuje se na hranici nového cirkusu, tance a fyzického divadla, využívá techniky vzdušné akrobacie, a to na zavěšeném lanovém objektu.
Můžeme si být jisté, že to, co vidíme, je opravdu tak?
Personální zajištění projektu:
Režie a dramaturgie: Martina Hajdyla Lacová
Pohybové laboratoře: Markéta Vacovská, Cécile da Costa, Eliška Brtnická
Akrobatická supervize: Stéphanie N'Duhirahe
Performeři: Jiřina Jonáková, Kateřina Klusáková, Kateřina Vaněčková, Klára Hajdinová, Michaela Stará, Pavla Rožníčková, Stéphanie N'Duhirahe, Veronika Smolková, Auro, Borek, Dorka, Lío, Nela, Róza a Sára
Scéna a kostýmy: Lucia Škandíková
Hudba: Ivo Sedláček
Light design: Karlos Šimek
Foto, video: Tristan Ben Mahjoub
Produkce: Jana Ada Kubíčková, Pavla Rožníčková
Partneři projektu: CIRQUEON – Centrum pro nový cirkus, KD Mlejn, Magistrát hl. města Prahy, Státní fond kultury, Ministerstvo kultury ČR