FysioArt: Hnízdo na nitkách
Neděle 27.6. / 15:00 / Pro děti / KD Mlejn
Nonverbální, interaktivní, novocirkusové představení pro děti i rodiče propojuje vzdušnou akrobacii s fyzickým divadlem.

Jaké to je vylíhnout se z vajíčka a poprvé uvidět svět? A jaké to je objevit v sobě touhu naučit se létat? Hnízdo na nitkách je fyzickou bajkou o odvaze opustit bezpečnou máminu náruč, vylétnout z hnízda – vzlétnout za svým snem. Ptačí mládě vypráví o světě zvířat, o překonávání nebezpečí a o bezmezné mateřské lásce.

Autor, režie: Hana Strejčková
Interpretace: Veronika Smolková, Aneta Jokešová, Hana Strejčková
Hudba: Ester Valtrová, Matouš Hamerník
Produkce: FysioART o.p.s.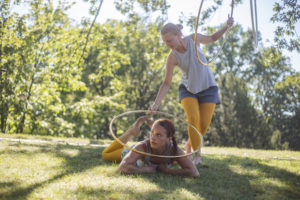 Délka představení: 45 minut
Pro děti od 3 let

Hnízdo na nitkách bylo realizováno za finanční a rezidenční podpory: Ministerstvo kultury ČR, Hlavního města Prahy, Nadace Život umělce, Cirqueon, Městské divadlo Varnsdorf, Jatka 78 a KD Mlejn
Na děti do 6 let se podmínky testování nevztahují.